Geneva Car Accident Lawyers
Helping Victims Fight for Justice
According to the Illinois Department of Transportation, in 2017, there were 311,679 motor vehicle collisions. Of those, 66,889 resulted in injuries, and 998 resulted in death. Accidents in Geneva accounted for 1,566 of the state's total. Harm sustained in a crash can have lasting impacts on a person's life, causing them to suffer things such as physical pain, mental anguish, lost wages, and medical expenses.
If the accident was caused by another person's negligence or reckless actions, they could be held financially liable for damages.
---
To discuss the details of your case, call our experienced car accident attorneys in Geneva at (800) 653-0198 for a free consultation.
---
What to Do After a Car Accident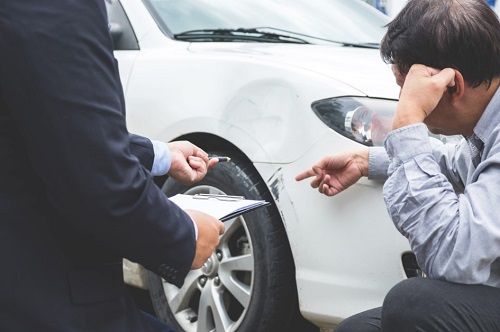 When you are involved in a car accident, you may be experiencing many emotions such as anxiety, fear, and shock. We understand that it is completely natural to feel overwhelmed after being involved in an Illinois car accident.
It is important to follow specific steps after an accident to ensure the safety of you and your loved ones:
Step One: Get to safety as soon as possible. Do not get out in the middle of the road after an accident, but pull over to the side of the road where you and your loved ones will be safe from oncoming vehicles.
Step Two: Contact the proper authorities once you have assessed the situation. Filing a police report or calling an ambulance may be necessary if you or anyone else involved in the accident has sustained any injuries.
Step Three: Do not admit fault or apologize for anything. Even if you think that you are the one at fault, it is important to ensure that you do not admit to something that you are not liable for.
Step Four: Document the accident and gather witness statements. Make sure that you get the contact information of the other drivers involved in the accident, as well as any witnesses who were present. It is also important to take pictures of any vehicle or property damage caused as a result of the accident.
Step Five: File an insurance claim with your insurance company and hire an injury attorney to help you with negotiating fair financial compensation.
If you have been injured and believe that your accident was due to negligence, contact our experienced attorneys to discuss your specific case details.
Do I Need a Lawyer for a Car Accident?
Strictly speaking, no. You could always choose to represent yourself in court. However, doing so means you will be missing out on the advantages having the legal experience of a seasoned Illinois car accident attorney on your side. If your opponent in court has an attorney, which is very likely if an insurance company is involved, then you will be facing someone who has full knowledge of local and state laws as well as the legal process. These factors along with many others reduce your chances of recovering full and fair compensation when you do not employ the services of a seasoned Geneva car accident lawyer.
When to Hire a Lawyer for a Car Accident
You should consider hiring a car accident lawyer if you or any passengers involved in the accident have sustained serious injuries that require medical treatment, surgery, hospitalization, rehabilitation, or long-term care, it's wise to consult with a lawyer. Additionally, if a loved one has died as a result of a car accident, you may need a lawyer to handle a wrongful death claim. A lawyer can help you navigate the legal process and ensure you receive fair compensation for your medical bills, pain, suffering, and other related expenses
How Can a Geneva Car Accident Attorney Help Your Case?
The legal system can be complex and intimidating. It is in your best interests to have a Geneva car accident attorney who knows the laws and statutes related to auto accidents fighting on your side. Skilled attorneys will help you recover compensation for medical bills, loss of wages, pain and suffering, property damage, and other losses that resulted from the crash.
Geneva car accident attorneys can also:
Investigate the car accident to determine liability and gather evidence
Negotiate with insurance companies for a fair settlement
Represent clients in court when necessary
File all relevant paperwork to ensure legal compliance
Advocate on behalf of victims and their families
Assist with medical bills, lost wages, pain and suffering, property damage claims, and other losses resulting from the crash.
Provide legal advice regarding the best course of action for your unique case.
Help victims secure compensation if they are unable to work due to injuries sustained in an auto accident.
Research applicable laws to look for any violations committed during the incident that could strengthen a case.
How Much Can I Get From a Car Accident Settlement?
The type of damages you can claim following your car accident depends on the specifics of your situation. It's best to have a skilled Geneva attorney on your side to discuss and evaluate your case. Our team will review things such as medical bills, receipts, pay stubs, and the severity of your injuries to determine a just amount to demand from the at-fault driver's insurance company.
Generally, after a traffic collision, there are several kinds of damages that can be recovered. If you have been seriously injured, you may be entitled to compensation for:
Ambulance rides, ER visits, and other emergency medical expenses
Ongoing medical expenses related to your injury
Pain and suffering
Rehabilitation
Costs associated with a permanent disability
Lost income
Damaged property
Wrongful death
Seeking fair compensation for the harm you suffered in an accident requires having a doctor conduct a thorough assessment and diagnosis of your injuries. That is why it is important to obtain medical care soon after the collision, even if you don't think you were injured. Having an experienced car accident attorney to guide you through the process of receiving compensation for your injuries is imperative. Our firm can fight for you while you focus on your recovery.
Car accidents occur every day and many of them result in serious bodily injury. Common accident-related injuries include:
Back injuries
Brain injuries
Burns
Broken and/or fractured bones
Head injuries
Loss of limbs
Scrapes
Spinal cord injuries
How Long Does the Average Car Accident Settlement Take?
All accident cases are different, and the amount of time it takes to resolve them depends on your circumstances.
Various factors could affect the length of your claim, including:
Establishing liability: This means you must present evidence that proves the other driver was at fault. The process usually involves thoroughly investigating the scene, speaking with witnesses, and examining photos and reports of the accident.
Obtaining medical care: The severity of your injuries and the type of treatment you need will also impact how long your case takes. When making a demand for compensation, you must be sure to include all accident-related medical expenses, which requires knowing the course of care needed.
Negotiating a settlement: After you have established liability and made a demand, you typically must enter into negotiations with the at-fault party's insurance company. Because you are trying to get the compensation you deserve for damages and the insurance company is seeking to minimize the amount they have to pay out, this could be a lengthy back-and-forth process.
Pursuing a lawsuit: If you and the insurance company are unable to agree upon a settlement amount, you might take your case to court. A trial can increase the length of time it takes to resolve the matter.
Again, because your situation is unique, it's best to discuss the details with a lawyer to understand the claims process. When you hire our Geneva car accident attorneys, we will provide personalized attention and maintain open communication, giving you updates on your case.
What Is Distracted Driving?
Distracted driving is a dangerous and all-too-common behavior that poses a significant risk to road safety. Distracted driving isn't limited to just texting or talking on the phone; it encompasses a wide range of activities that divert a driver's focus away from the primary task of driving safely.
Types of Distractions
Visual Distractions: These distractions involve taking your eyes off the road. Common visual distractions include looking at a GPS, reading a map, gazing at billboards, or even turning to converse with passengers.
Manual Distractions: Manual distractions occur when a driver removes their hands from the steering wheel to engage in another activity. Examples include eating, adjusting the radio, or reaching for an object inside the vehicle.
Cognitive Distractions: Cognitive distractions affect a driver's mental focus. Daydreaming, thinking about personal problems, or engaging in deep conversations while driving can divert attention from the road.
Auditory Distractions: Auditory distractions involve sounds or conversations that disrupt a driver's concentration. Listening to loud music, engaging in heated arguments with passengers, or attending to a crying child can fall into this category.
Electronic Device Use: Perhaps one of the most prevalent forms of distracted driving today is the use of electronic devices, such as smartphones. Texting, browsing the internet, making calls, and using apps while driving are all dangerous behaviors that significantly impair a driver's ability to react to changing road conditions.
Consequences of Distracted Driving
The consequences of distracted driving can be severe and far-reaching. They include:
Increased Crash Risk: Distracted drivers are more likely to be involved in accidents. Even a split-second of inattention can lead to a collision, which may result in property damage, injuries, or loss of life.
Injuries and Fatalities: When accidents occur due to distracted driving, the injuries sustained by drivers, passengers, pedestrians, or cyclists can range from minor to life-threatening. Tragically, some incidents result in fatalities.
Legal Consequences: Distracted driving is illegal in many jurisdictions. Violations can lead to fines, license suspension, increased insurance premiums, and even criminal charges in cases of severe accidents.
Emotional Impact: Survivors of accidents caused by distracted driving may experience emotional trauma, which can have long-lasting effects on their mental well-being.
Financial Burden: The financial repercussions of a distracted driving incident can be overwhelming. Medical bills, vehicle repair or replacement costs, legal fees, and increased insurance premiums can all contribute to significant financial strain.
---
Learn more about how we can help you by calling our experienced Geneva car accident attorneys at (800) 653-0198 for a free consultation.
---
Real People, Real Results
Over Millions Recovered for Those Injured
$2,900,000 Semi v. Auto Accident
$2,394,602 Semi v. Auto Accident
$1,300,000 Auto Accident
$1,125,000 Auto Accident
$1,100,000 Auto Accident

Our Geneva Car Accident Lawyers Can Help
If you or a loved one was injured in a car accident, reach out to our experienced team today for the legal help you need to seek compensation. When you hire our attorneys at Turner Law Group, we will provide one-on-one representation to fully understand your circumstances and needs and build a unique strategy for your specific situation.
Initiating a car accident claim can be a complicated process, filled with various rules and deadlines you must adhere to. We understand the challenges you might encounter when trying to handle the matter alone, which is why we are dedicated to providing skilled guidance from the beginning of your case to its conclusion.
Timely filing a claim is critical for seeking compensation. There is a set deadline for pursuing these types of matters, and if you miss it, your case could be dismissed. When focusing on your health and well-being after a collision, it can be difficult to ensure you observe all rules and laws concerning personal injury matters. That is why we will attend to the details of your case so you can concentrate on your recuperation.
For compassionate and dedicated legal representation, call our experienced Geneva car accident lawyers at (800) 653-0198 or contact us online.
Recommended Reading
Looking for additional tips regarding car crash lawsuits? Check out some of our latest blog posts:
Get Personalized Legal Representation
Contact Our Team
What qualifies as a personal injury?

A personal injury generally refers to any bodily injury sustained in an accident, from minor bruises to severe brain trauma. The most common personal injury claims arise from harm sustained from traffic wrecks, slip and fall accidents, defective products, dangerous property conditions, and medical malpractice.

What is the personal injury statute of limitations in Illinois?

Under state law, the statute of limitations (or deadline) for most personal injury claims in Illinois is two years from the date of the accident. However, for claims against governmental agencies, there are special limitation periods that may be as short as a year. You should always consult with an attorney on what particular limitations period might apply to your claim. You should seek legal help immediately, as a delay may be fatal to your claim. Unless you have a special exception, your claim will be thrown out if you attempt to file after the limitations period has passed.


Because every personal injury claim is different, it is difficult to determine an average settlement. A victim who lost a limb will likely need to receive more in medical expenses than someone who broke an arm, for instance. Although personal injury claims tend to average anywhere between $3000 to $75,000—an extremely broad range—there may be significant economic and noneconomic factors in your individual case that may indicate that your particular claim would be valued at a significantly higher figure at trial in front of a jury. An attorney can help you estimate your unique losses based on the facts of your case. The knowledge of an attorney experienced in jury verdict value is extremely important. You should be entitled to make up for your specific losses at the very least.
 

What evidence is needed for a personal injury claim?

Necessary evidence can vary case by case depending on the specifics of your situation. However, one of the most helpful pieces of evidence is your medical records. If you can prove that you sought medical attention for a serious injury after an accident, you are more likely to receive compensation to cover the expenses associated with said injury. Other helpful evidence includes any photographs of the accident scene, accident reports, witness statements, insurance forms, receipts, and any other physical evidence related to the injury.

What is the average settlement for a personal injury?

Because every personal injury claim is different, it is difficult to determine an average settlement. A victim who lost a limb will likely need to receive more in medical expenses than someone who broke an arm, for instance. This means that personal injury claims tend to average anywhere between $3000 to $75,000—an extremely broad range. An attorney can help you estimate your unique losses based on the facts of your case. You should be entitled to make up for your specific losses at the very least.